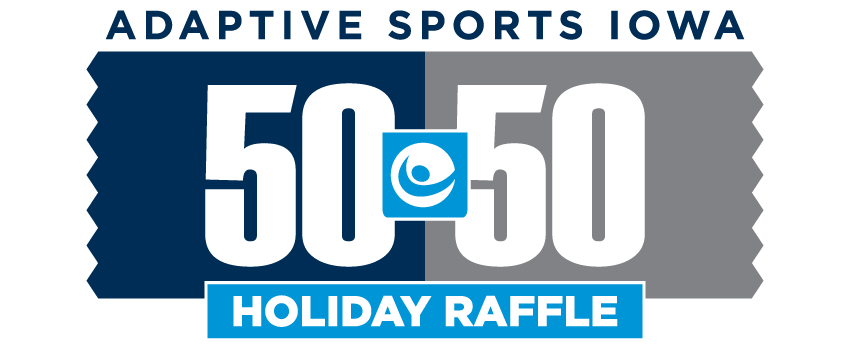 What is the Adaptive Sports Iowa 50/50 Holiday Raffle?
In order to provide programs at no cost to participants, Adaptive Sports Iowa (ASI) sponsors multiple fundraisers each year. For the ASI 50/50 Holiday Raffle, one lucky winner will win 50% of the net proceeds raised. Individuals who participate in the raffle will also have a chance to win other prizes. The more tickets sold, the higher the jackpot will be. The remaining 50% of the jackpot will go towards costs associated with ASI's mission of providing sports and recreation programs and events for Iowans with physical disabilities.
Some of the programs offered by ASI include:
Wheelchair Basketball
Sled Hockey
Beep Baseball and Goalball for the visually impaired
Winter Ski Experience
Scholastic Track & Field Equipment Program
National Veteran Airgun Outreach Program
The only recognized Adaptive Sports Cycling Team on RAGBRAI
What are the prizes?
GRAND PRIZE – half of the net proceeds
Principal Charity Classic package, valued at $600
Legacy Golf Club package, valued at $400
$200 Scheels gift card
$100 Homemakers gift card
How much do tickets cost?
1 ticket for $25
3 tickets for $50
10 tickets for $100
How to purchase?
Use the online form (button located on the top of this page) or contact Karlie Busch at 888-777-8881 ext. 714.
What are the odds of winning?
The odds of winning are based on the total number of tickets sold.
What are the methods of payment for the ticket?
Check, cash, or debit cards are accepted.
Checks should be made payable to Adaptive Sports Iowa.
**By Iowa state law, credit cards are not accepted.
When is the drawing?
When: Friday, December 16, 2022, at 6pm.
Where: Facebook Live
Do I need to be present to win?
Need not be present to win. Winners will be contacted via email.
Deadline to purchase is December 14 at 11:59 pm
2022 Winners
Grand Prize: 863948
Principal Charity Classic Package: 863935
Legacy Golf Club Package: 864024
Scheels Gift Card: 864126
Homemakers Gift Card: 864010